Shipping your goods from China to Russia is now easy. More importers from Russia are buying from China these days. This full guide will help you find the easiest way to buy from China and ship them to Russia.
Do you know that you can practically choose from the different ways of shipping from China to Russia?
You can now receive your packages in as fast as three days! The growth of your business is vital. Find all the details you need when shipping to Russia here.
1. Ship from China to Russia Complete Guide Basic
By air flight, it takes less than five hours to get to China from Russia. But shipping packages takes a longer time. It may take days, weeks, or months. There are importers from Russia that need their packages sent in less than one week. Your shipping agent should be the best help in this case.
1) What is shipping from China to Russia?
The answer is- you buy from China and then ship it to Russia. You have different options to take. You can have it faster for a cheaper rate using ocean freight, or fastest but with a higher price by air freight.
2) Why ship from China to Russia?
You can buy cheap products from China if you are a store owner or online seller. You can find almost all types of things to sell!! Because you can buy them for a low price, you can make a profit and grow your business!
You can also check China's market if you are sourcing products from countries like India, the Philippines, the US, or the UK. They offer bulk sales for a low price. You can ship them to Russia depending on how fast you want them.
We will discuss all the shipping methods in the next chapters.
2. Most Popular Goods Exports from China to Russia
China is one of the best marketplaces that Russians prefer. Because so many products have good quality but are low prices, they purchase or source goods there. Here, we will explain the fastest shipping of goods from China to Russia.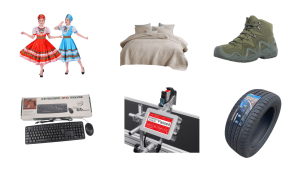 1) Clothes, Textiles, Shoes, and Beauty Products
This takes the biggest percentage of products that are shipped to Russia. Those who purchase these goods have online shops or local stores. They can be OEM or ODM products. These are purchased in bulk from direct factories.
Some consumers also buy from Chinese stores like AliExpress. It can be retail or big buys. It can be shipped to Russia using DHL or small package China couriers.
2) Computers or Electronics
Russians go for Chinese gadgets and electronics. They source from China because of its low price but good and high quality. They can also be made to orders, large to bulk, or minimum order purchases.
3) Machines
Machines or equipment used in all types of industries can be ordered and shipped from China to Russia. It can be made to order or customized to meet the buyers' needs.
4) Vehicle parts
Car accessories and parts are also ordered and shipped from China to Russia.
3. Shipping options from China to Russia
You can choose several options to ship goods from China to Russia. Before we discuss each, know that factors can influence the shipping price.
They are:
• speed
• weight/volume or dimension
• types of goods ( regulated or restricted)
• time of year
• freight service type
• import fees and taxes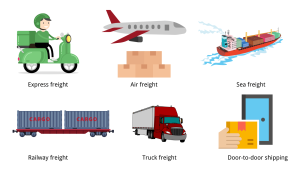 1) What are the different shipping options?
EMS (Express Mail Service) is one of the largest integrated express and logistics providers. It has a network of more than 170 national postal services. The EMS international shipping rates from China to Russia are lower than couriers like UPS or DHL.
Compared to other international express services like UPS or DHL, EMS frequently offers faster but better tracking information from the origin post to the final delivery.
EMS shipping from China to Russia is used for packages less than 30kgs to provide door-to-door service from China to Russia. It takes approximately 10 days for a delivery time, and it often takes 15 days from when the shipper receives the item until the consignee receives the entire shipment.
Express shipping from China to Russia can be anything from a document to light or big packages (e.g., up to 30 kilos). You can get them within 24 to 72 hours. Prices can differ from a courier service.
For example, FedEx or DHL can charge more than Express China. Note that the weight and volume of the package is the main factor for the shipping rate.
If you rush to send the package, air freight is good because air cargo planes can travel from 2 to 3 days. The downside is it is expensive and can be five times more costly than sea freight.
The whole process can still take from 5 to 15 working days. Some factors can be the customs clearance process in Russia, delays in the port, rush seasons, or bad weather conditions.
A cheaper alternative to air freight is sea freight delivery. It is 4 to 5 times cheaper than air freight. Remember that sea freight can take weeks, so you must plan your shipping.
Your package is shipped via ocean using containers. There are options you can take when using sea freight. When your package takes up to 15 cubic meters, you can use Less Than Container Load or LCL shipping, so you will only pay a little.
This type of economy transportation can deliver small or consolidated packages if an item weighs more than 20 kilograms. It can take 14-28 working days to ship using this transit.
Container trains can accommodate faster delivery than sea freight. There is a 24-hour rail transport service available with some carriers. Also, there is no limit on the shipment volume, and you can track your packages occasionally.
Your goods can be shipped from any city in China and then delivered to Moscow. The three routes you can choose are:
The railway that connects Russia with China's northeast, the Harbin-Suifenhe.
The Harbin-Manzhouli railway links the Russian town of Manzhouli with the Chinese town of Harbin.
The Russia-Mongolia-China Route begins in Beijing and moves on to the Chinese region of Inner Mongolia.
Road freight vehicles or truck shipping to Russia from China are used for large equipment or tank goods that cannot fit the railway. You can choose from the following:
FTL -Full Truck Load,
LTL -Less Than Truckload
PTL – for Partial Truck Load
FTL is when you book the truck to its max capacity. LTL is the cheapest because you share with other companies. In PTL, your packages stay on the same truck when it departs and reaches their destination.
There are 3 Routes it can take:
The first route leaves Tianjin, China, and travels through Zhangjiakou cities before arriving at Erenhot, Mongolia.
Before crossing the border into Russia at Darkhan, it passes through Choyr and Ulaanbaatar in Mongolia.
The cargo will finally travel through Kyakhta before reaching its destination in Ulan de, Russia.
You can receive your package right where you want it to be. Your freight forwarder can use combination services from air, sea, road, or railway for door-to-door. It also covers the customs process.
2) What is the quickest way to ship goods to Russia from China?
Shipping by air freight is the quickest way to bring goods and receive them in Russia. Many available flights are scheduled so that you can manage your shipping time.
Express couriers are the best choice to get them in days or less than a week. However, the shipping rates or prices are a bit higher. But when you need them urgently and only have a small package, you can opt for this.
4. Shipping Cost to Russia from China
The price of shipping from China to Russia varies depending on the shipping option, the weight and size of the shipment, and the distance it needs to travel.
The import fees for shipping from Russia to China will also vary on the type of goods. You can ask your freight forwarder for an estimated cost.
But we will show you an estimate of how much it costs to send using different types of freight options per kilogram in US dollars (base price):
| | |
| --- | --- |
| Type | Estimated Cost in USD |
| EMS Service | $8.44 per kg |
| Express | $5-10 per kg (FOB) |
| Air freight | $1-5 per kg depending on MOQ of the freight forwarder (FOB) |
| Sea freight | $0.3-3 per kg LCL (FOB) $870-2600 per foot FCL (FOB) |
| Rail freight | $0.75-6.5 per kg (FOB) $7k-10K per 40" container (FOB) |
| Road freight | $1.5-6.5 per kg (FOB) $8k-10K per 40" container (FOB) |
| Door-to-door shipping | $5-10 per kg (FOB) |
What's the cheapest way to ship to Russia?
The most affordable and practical way to deliver goods from China to Russia is by sea or ocean freight. For as low as $0.3 to $50 (depending on the type of goods) per kilogram (FOB Price), freight forwarders can ship your goods to Russia or Amazon FBA warehouse.
For container shipping, you can book for as low as $800 – $13000 on size 20 or 40 containers FCL. Transit time varies but can take up to 40 days.
5. Shipping time from China to Russia
The shipping time from China to Russia also varies depending on the shipping option. Air freight is the fastest solution but also the most expensive. Sea freight is the slowest option, but it is the most affordable.
As mentioned above, some factors can cause delays when shipping to Russia (or any country). So, if you plan to ship during peak or holiday seasons, do it weeks ahead. Customs clearing can extend if there are missing legal documents or the goods are not allowed to enter Russia.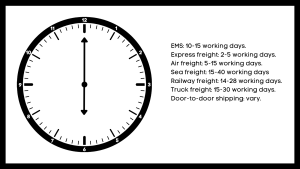 Another point to remember is when you want to purchase from eBay because they suspended their transactions with Russian buyers. EBay shipping time from China to Russia depends on the freight courier handling your parcel. You need to get an agent that will take care of it.
1) How long does it take?
Most China-to-Russia shipping companies and freight forwarders follow these standard shipping times. Here's the duration and time frame you can expect from your Russia to China package delivery:
| | |
| --- | --- |
| Type | Estimated Time |
| EMS Service | 10-15 working days |
| Express | 2-5 working days |
| Air freight | 5-15 working days |
| Sea freight | 15-40 working days |
| Rail freight | 14-28 working days |
| Road freight | 15-30 working days |
| Door-to-door shipping | 3-5 days for documents or up to 10 days for parcels express door-to-door Up to 40 days using Sea freight door-to-door |
2) How do you track your packages?
Your freight forwarder will provide a tracking system where you input your package's tracking number, and you will get all the details of its shipment.
You can also use the Parcel Monitor site (https://www.parcelmonitor.com/track-russia/) to get all the information you need for tracking your shipment.
6. Customs Clearance from China to Russia
When shipping goods from China to Russia, it is crucial to know the customs regulations. Goods that are prohibited or restricted may be subject to confiscation or fines.
There are two categories that makeup customs procedures in Russia:
Preliminary procedures
Basic procedures
Preliminary Procedures are done to prevent the entry of illicit items and to check the goods for customs purposes. This must be taken before a certain customs system holds the goods.
When we talk about Basic Procedures, it refers to actions that should be taken by customs, the declarer, and other employees who have complete control over the products and vehicles after customs get the declaration.
There are many products that you cannot import from China to Russia. Check this list of prohibited goods if you need help with the product you want to ship.
Do not ship the following:
Liquors or alcoholic drinks
Non-domesticated skins of animals
Precious items, such as artwork, antiques, precious stones, gold, and silver
Hazardous items and materials
Furs
Firearms
Electronic products like drones
Batteries
Items made of ivory
Live animals
Cash and movable goods
Perishable products
Plants
Materials with pornographic content
Plant seeds
Stamps with a unique value
Tobacco products or electronic cigarette
Unaccompanied luggage or personal belongings
1) What are the documents needed for the Customs Procedures in Russia?
Russia is strict when it comes to product inspections. You must secure all the legal papers to ensure your goods will be cleared and not detained in Customs. The freight forwarder must have all the necessary documents for clearance. These documents are as follows:
• Goods declaration form
• Customs value declaration form
• Bill of Lading or Airway Bill
• Certificate of origin
• Import contract registration certificate
• License for goods subject to license and quota management
• Commodity inspection certificates or Licenses
• Payment of duties and taxes prescribed by law
• Other supplementary documents
7. FAQs
After we share with you information on how to ship goods from China to Russia using different options, we will answer some more questions for you:
1)What is the best possible way to ship to Russia?
When choosing the best way to ship to Russia, it is crucial to determine your budget, speed, and volume of the product you are shipping. You will go for express or air freight if you want them shipped in less than a week.
But if your budget is limited, looking for cheaper rates, and you can plan- sea freight or railway freight is a better choice. The services can be combined like sea and railway or sea and road freight shipping to manage your shipping requirement better, with reasonable prices.
2)What are some problems when shipping to Russia?
Shipping to Russia may encounter problems like the following:
DHL does not ship to private or residential addresses.
All duty-paying exports to private individuals are subject to Russian restrictions.
If you try to ship using DHL to a private or residential location in Russia, the package will almost certainly be returned.
There is no assurance that your package will be sent out following customs inspection. If this happens, the shipment will likely be returned to the sender, forcing the shipper to pay for return freight.
Long delays or unpredictable delivery time.
When shipping to Russia, you must set your expectations because the customs clearing process can be very intensive. Freight forwarders in China know they should cooperate reasonably and partner with Russian courier companies for faster transactions.
Wrong declaration of package value will encounter huge problems.
It is better to declare your package's correct value, or it can become stuck at the Russian border. You need to pay tariffs and import fees based on their law. You must not get away with paying the right duty for your packages.
If the combined worth of your package is less than US$200, there is no fee. The minimal threshold set by the Russian authorities is US$200. If the entire worth of your package exceeds this amount, you must pay the import tax.
3)How long does Customs clear goods in Russia?
The standard clearing process is 24 hours, provided all legal documents and requirements are present and correct. If not, the clearance can take days or weeks to finish.
4)Is it cheap to ship from Russia to China?
The price of shipping to Russia is reasonable and cheap if you choose the right option for your package. For example, if you want to ship 300 kgs of goods using LCL in sea freight, it is five times cheaper than when you will ship using air freight.
The shipping cost is also based on other factors like speed, season, and when you choose a reliable freight forwarder. JustChinaIt can give you the best option for your goods when you want to ship them to Russia for a reasonable price.
5)Is dropshipping available from China to Russia?
Yes! Russians are one of the top buyers of AliExpress. If you want to pursue or try a dropshipping business and send it to Russia, you can use platforms like AliDropship, Banggood, CJDropshipping, or DropShip China Pro. You can find reliable suppliers of China products that you can safely import to Russia.
8. Top Freight Forwarders From China to Russia
1) Ship24
They offer quick and cheap delivery of light parcels up to 2kgs for less than $40. You can receive your goods within 4-6 days if there are no restrictions on the Russian borders. They offer free pick up of packages and are cheaper than DHL, FedEx, or UPS.
2)Honourocean
This company can provide all shipping options from China to Russia, from express to door-to-door shipping. You can order from any city in China, and they will ship it to Russia by air, sea, railway, truck, or combined services.
They have a group of logistic experts who will propose the best shipping method based on your requirement.
3)JustChinaIt
We are the best freight forwarding provider of one-stop solutions, so you have less work and worry-free transactions. We can assist you from the start- from choosing and picking your supplier to warehousing, packing, shipping, and tracking.
We can quote you the best alternative and options for all shipping methods- from express, air, sea, railway, truck, and door-to-door delivery to Russia. We will also choose the carrier with the fastest speed of delivery and routes.
We are a professional team of helpful experts in international logistics that can help you ship your products to Russia efficiently and hassle-free. We have operated this business for over 12 years and know how to ship your products safely to Russia.
4)Basenton Logistics
They take pride in their logistic services for their competitive price and speed of delivery. They offer more than just shipping; they also have pick-up, loading and unloading, warehousing, or consolidated service if you want your goods sent to VLADIVOSTOK, ST.PETERSBURG, VOSTOCHNY in Russia.
5)UsChina Shipping
This China-based company specializes and is experienced in China-Russia international logistics for import and export. They have connections with the best shipping carriers, so you'll have more options for routes and schedules for product delivery.
Conclusion
You can take several options to ship your goods from Russia to China. Depending on your budget and need, you can choose from air, sea, railway, or truck freight services. The express service and the door-to-door shipping are also reliable and hassle-free options.
Shipping from China to Russia can be a complex process, but doing your research and planning is essential. You can choose the best option for your needs by understanding the different shipping options and costs.
You will have a better shipping experience to Russia if you choose JustChinaIt as your shipping agent and freight forwarder. We can handle all the documents and services you need to ship your goods safely and quickly.
We are a one-stop solution company for all your shipping requirements. You can depend on us to be your business partner. All you need to do is sit, relax, and wait. Message us today!
The post The Ultimate Guide to Shipping Goods from China to Russia: Cost, Time, and Top Tips appeared first on Justchinait.


#Ultimate #Guide #Shipping #Goods #China #Russia #Cost #Time #Top #Tips

Source: www.justchinait.com